Here I find a vintage in Beijing called "Mega Mega Vintage".
Here is the blog called "Beijinger" talk about Mega Mega Vintage:
(http://www.thebeijinger.com/blog/2010/06/03/Top-Fashion-Finds-Mega-Mega-Vintage)
For those in the know, Mega Mega Vintage has long been the go-to shop for trendy and offbeat vintage finds. Even beloved local designer Vega Wang, founder of brandSforzando, declared it "one of the few places [she'll] shop at in Beijing."
Our visit proved all that talk is not for naught. Guloudong Dajie is ripe with independent boutiques, from vintage copycats to urban streetwear stores, but Mega Mega Vintage's cache of plaid shirts, retro dresses, distressed denim, vintage tees and leather bags, belts and shoes just can't be beat. Both its décor and selection come the closest to vintage stores we frequent back in the States - and don't even get us started on the fabulous prices.
But enough with the generalities - here are our top fashion finds of the week.
1. Vintage Gap denim jacket (RMB 349)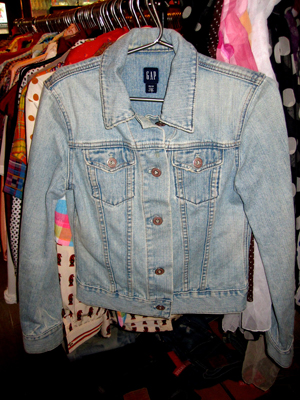 It may seem too soon for this '90s trend to make its comeback, but no matter - denim in forms other than pants have been all the rage as of late, most popularly as cut-off vests, collared shirts and cropped jackets. The jacket may be the easiest to incorporate, as it works for nearly all occasions depending on what you match it with, from silk dresses to peasant skirts or even denim shorts and jeans, if you're feeling so bold. (TIP: In the past, denim-on-denim has been regarded as fashion taboo, but we've found that if they're different shades of denim and strategically layered with colors and prints, it can look cutting-edge and hip.)
This time around, the denim jacket ought to be more fitted, cropped shorter and of a lighter wash. Whether you're attending an afternoon picnic or heading out to a glitzy club, wear this trendy item in place of your usual blazer or light sweater, and roll up the sleeves for that insouciant look that seems so appropriate for summer.
2. Vintage Lee T-shirt with tiger emblem (RMB 159)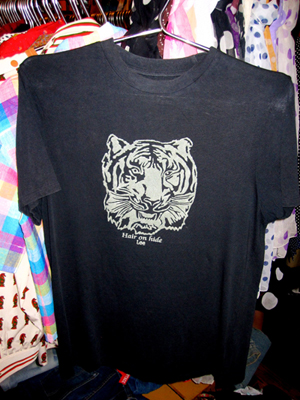 Let's be honest – we can always use some more well-fitted basics, and we can never go wrong with another vintage tee (so long as they have the right graphics and fit). They're comfortable, affordable and stylish, and perfect for wearing on a day-to-day basis. According to fashionistas and style bloggers, it's become cool to wear worn-looking tees with animal images on them, specifically tigers. We can't really explain this recent phenomenon ourselves, but we won't argue against it, as we're all for any move towards more functional and grunge-influenced fashion.
3. Alpine crew neck knitted sweater (RMB 249)
The ugly sweater trend is back, and no longer looking so ugly. Brought back best by Rag & Bone's Fall 2010 collection, it accompanies denim bottoms and black tights quite nicely. We understand that keeping cool is most peoples' priority right now, but we promise it can work – and that it'll also get plenty of wear when fall comes around.
Here are the photos about mega mega vintage store, the store was painted in whole red. Very old style door with chic color. English store name.
This vintage store in Beijing actually represent the successful vintage style in China. We can feel the western style everywhere not only from the decorations of the store, but also their western chic stuffs.
Here I still got some picture about their own photoshoot which used to promote their clothing.
Though it's very simple photoshoot, but the color and light are works. In my opinion, the dress in the picture looks high quality. And the mood of the whole photoshoot more like a brand designer's works on the press in fee style.