This weekend I interviewed one of my friend: Leo Huang, who is the
Fashion / Retail Curator for BURBERRY China group. As the person who working in real Chinese fashion industry and international luxury brand, he got the a lot of experience that can help me to direct my POS.
First of all, I ask the him about the
marketing strategies of these luxury brands when they entered China, especially on their brand image, styles, ad campaigns and promotional events. He said that he formerly worked for
Louis Vuitton, when the new trend began to sale in West, you can found same style sale in the retail store in China. Same thing happened on ad campaigns. In China, they still used the latest one and updated soon after the same ad campaign or style l
aunched in West.
Now he works for Burberry China Group. He said this year Burberry get back the
majority ownership of all their retail stores in China and plan to wildly expand their business in China. Except a lot new stores will open across more and more cities in mainland China, the new line or collections will be updated almost at same time when they launch in UK. The ad campaigns and promotional events will immediately follow the new trend. He told me the example: In this October, Burberry London launch their new seasonal collection call "Winter Storm", this collection is totally the new trend and western style. Before the Winter Storm launched in London, the China group was asked to prepare the new visual merchandising and promotions in order to ensure the Winter Storm can launched in China at the same day. And the ad campaigns and promotion video were post to lot of well-known media
platform including Vogue China, ELLE China, Youku(same as the youtube in
China). Leo provide me the number of how many people clicked the promotions on these platform. As the result, 9,965,760 people interesting in Winter Storm after the ad campaign and promotion video been posted for only 2 weeks.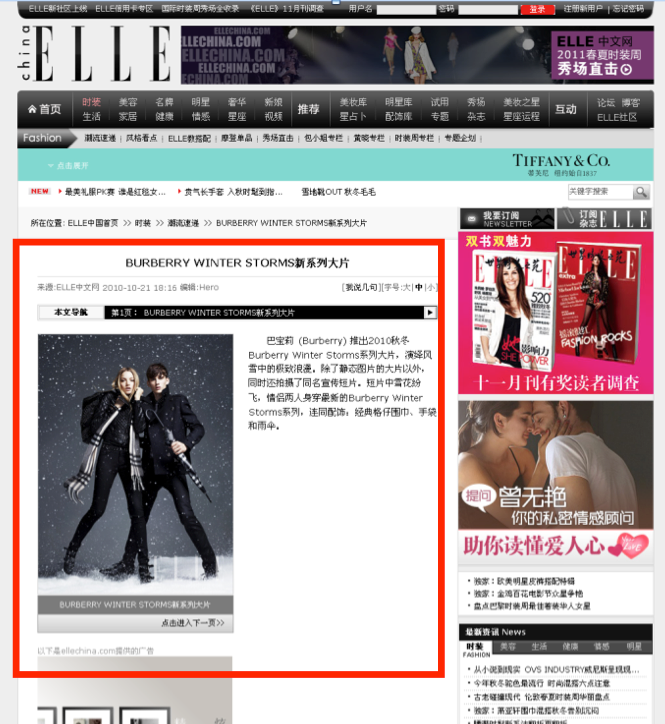 Burberry Winter Storm on ELLE china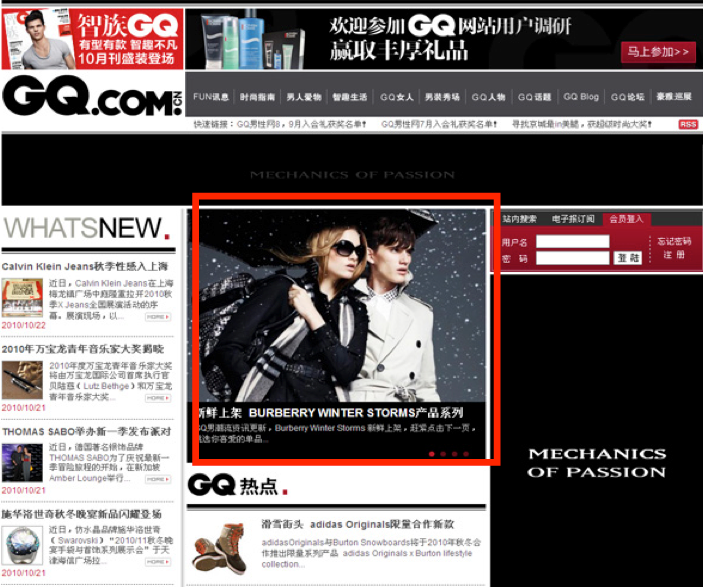 Burberry Winter Storm on GQ china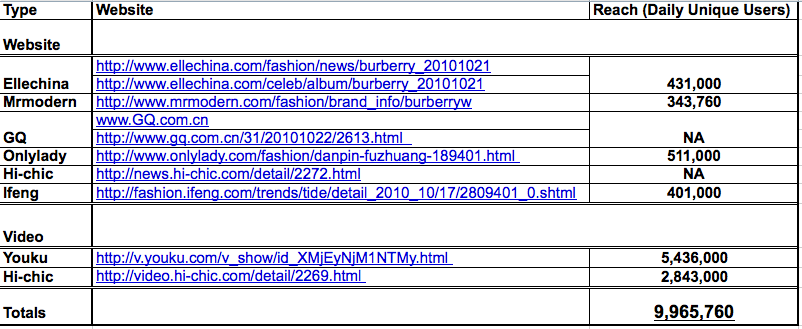 Number of people that click the Winter Storm on different platform
These information shows Chinese people desire the latest western styles no matter they suitable for Chinese or not. They love these well-appearence looks in the ad campaigns and want to have the same one. Also, this interview still shows the importance of the styling or visual merchandising in brand image including these ad photo-shoot, promotion videos or even the window display.